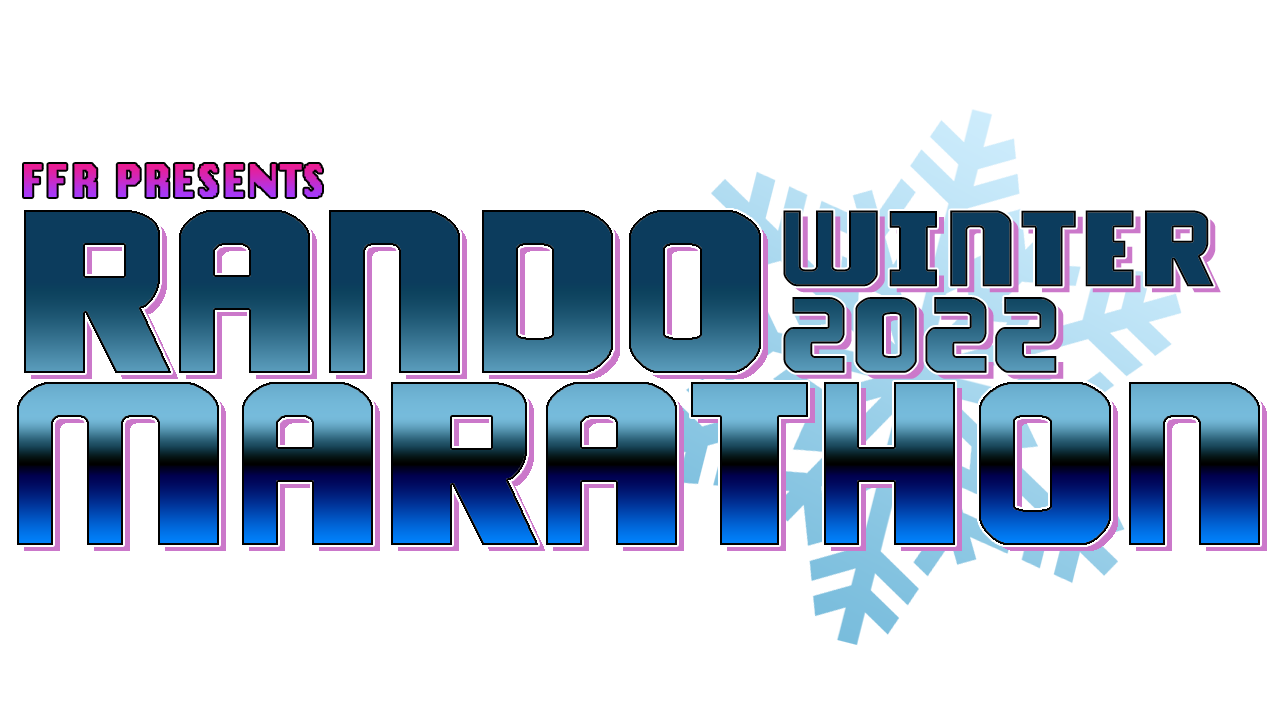 ¶ Hosted by Final Fantasy Randomizer
¶ Details and Guidelines
Welcome to the second FFR Rando Marathon (Schedule of the Event). This will be a three day event, 10:00 AM to Midnight (EST), on the weekend of December 9th, 10th, and 11th. All randomizer communities are invited to join this charity event in support of the MUSC Children's Health and SC Firefighters' Burned Children's Fund, a charity dedicated to easing the recovery process for pediatric burn patients and their families in South Carolina.. We welcome any and all participants to this first ever event.
The marathon will be a three-day showcase of randomizers. The focus is on randomizers of all shapes and sizes, from RPGs to platformers. If your game can be randomized we invite you to submit it. Once all the submissions are in, the marathon committee will go over the list and will watch the various submitted runs. A schedule will be created from there, filling in the various 10:00 AM to Midnight (EST) blocks for the three days of the marathon. Meanwhile, the overnight blocks of the marathon will be taken up by special events (TBD). The marathon will end after the last run of Sunday (estimated time of Midnight).
October 3, 2022: Marathon Submissions Open; Prize Submissions Open
November 11, 2022: Marathon Submissions Close
November 13, 2022: Marathon Schedule will be released
December 2, 2022: Prize Submissions Close
December 9 - 11, 2022: Marathon
December 12, 2022: Prizes are drawn
December 13 - 20, 2022: Prizes are sent out
Submit a run (or runs) to the marathon: FFR Rando Marathon: Winter 2022 Submission Form
All donations to the Marathon will go to the charity. The FFR community will not handle any of the monetary donations for the foundation and 100% of the proceeds of the Marathon will go directly to the foundation.
The prizes for the Marathon will be contributed by the communities. These prizes will be listed during the marathon and awarded after the event via a simple raffle of names. Details about the exact way prizes will revealed, and then allotted after, will be detailed here once the full prize pool is known.
Submit a prize (or prizes) to the marathon: FFR Rando Marathon: Winter 2022 Prize Submission Form
All runs must be streamed live. Players should in the "Marathon Waiting Room" voice channel at least 30 minutes before their run.
Although the runners are not required to hang out in chat and see what people are saying, it is encouraged that comms (and the marathon host) keep an eye on chat so they can interact and explain the randomizers being played.
Players must have a timer on screen for syncing and timing (especially during any scheduled races).
While on stream, and in interviews afterwards, players must comport themselves and act to the expected standards for on-air behavior. This includes, but is not limited to: no cussing (including epithets and slurs of any kind), no rants about the other player, no rants about the marathon, no rants about the format, no rants about the streaming service. This extends not only to the on-air portion of the event but to Twitch chat and public-facing Discord as well. Anyone that acts in a manner counter to the professional attitude and bearing we expect from our participants at this event will be removed from air and barred from future events.
All participants must be on the FFR discord for the duration of the event.
If you do not want to follow these rules do not volunteer for the event.
I saw your post in a community I frequent. While I like that game, there are other randomizers I'd much rather submit to the marathon. Is that okay?
Yes. We would love to see any and all randomizers get submitted to run in the marathon. If there's a game you'd like to run, please fill out our submission form!
What happens if I submit a game that someone else has already put in for the marathon?
Well, there are a few ways we could handle it. Depending on the runs:
If the runs are different enough, even though they're for the same game, both runs might make it into the marathon separately. Think ALttPR where one player could run Open Boots Standard while the other could play Inverted Crosskeys Glitched. Those are very different runs while still both playing in a Link to the Past. There's a solid chance both would be viable on their own.
If the runs are similar enough, or the marathon schedule is very cramped, we may talk to certain runners and see if they'd like to find a shared flagset they could play and run it together as a race. This would allow both players to participate while still putting a good run on the schedule.
If we have a great number of submissions we'll have to pick and choose what runs can get in. This could be based on length of the run, content of the run, and/or any number of factors. That doesn't mean one run was better than another, just that one fit the schedule (and the games around it) better. While one run makes it in, other runs could be kept on "standby", that way if we end up with a large gap in the schedule (due to other runs finishing early, or a runner having to cancel), we can swap a standby run in (assuming that backup runner is still available).
I made a submission to the marathon but didn't hear back yet on whether mine was accepted or not. Was it?
This specifically pertains to runs submitted before the deadline. If you've put in a run, you won't hear back from us (unless we had questions about your submission) until we put together the schedule, and we honestly can't do that until we have all the submissions from players. We won't begin the process of arranging the schedule until after the deadline, and that's because we need to see:
What runs were submitted.
What times players are available.
How we can fit it all together.
A schedule like this is a puzzle and we have to have all the pieces before we can assemble it. Worry not, though: we will let everyone know, once the schedule is arranged, whether they're in, are being held as a backup run, or if we simply couldn't make it work for the marathon this time.
If you are curious if your submission went through, though, you can ping the @marathon-staff to confirm. We're happy to check for you at any time.
Are we able to submit more than one game? If we did, would only one of our submissions get chosen?
You can submit more than one game. When you submit you say "please only choose one" and list your preference, if you have one, or you can simply leave it open and let the marathon staff choose runs as they desire. Plus, if you submit more than one with open availability there's a chance all your runs could get in.
If you have any questions, feel free to shoot them at the @marathon staff at the FFR Discord: adr, BurtReynolds, Chanigan, Dani, Darkmoon, DeviousRNG, Falconic, Gourmande, HaateXIII, LordFizzlebeef, LuffyDV